OLD
TELEPHONES
As
Entertainment!

Entire site ©1997-2014 paulf. All rights reserved.
As telephone collectors feverishly pursue the potbellies, wood wall magneto phones, one each of anything made by Western Electric and all the other treasures documented in the collector publications, we often trip over things we weren't looking for, or unusual variations that give us lots of pleasure.
(And are often much cheaper!)


---
This site began as a single page of hand-coded HTML in the mid-1990s as a place to showcase a few telephone-related oddities found at yard sales and flea markets.
With the encouragement of and contributions from fellow collectors, it has grown to include reference information for phone enthusiasts as well.

---
Please send comments or photos of your favorite phones to: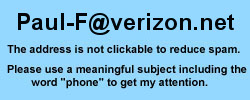 You must enter my email address into your email program.
There are no clickable email addresses on this site, in an attempt to minimize spam.
Note that the address is Paul-F (hyphen), not Paul_F (underscore).


---
THANKS FOR VISITING!


Note: Many of the photos on this site were contributed from fellow collectors and site visitors.

While I do not currently own most of the phones shown, I do have duplicates of some of the phones on this site not shown on the Phones for Sale page.
Contact me for details.
---
Entire site ©1997-2014 paulf. All rights reserved.